HAHN-TRAFO - Performance that builds trust.
Since the company was founded, this motto has been a recurring theme throughout HAHN Trafo.
HAHN's principal aim is to continue to supply quality products and to provide reliable customer service and thus contribute to the success of its customers.
All HAHN transformers carry a test certificate, so that customers obtain an assurance of maximum electrical safety and long service-life for their equipment and appliances.
Highest quality and customer-orientated services in all industries
Melchioni & HAHN Trafo:
Authorized Distributor
Long term, direct relationship with HAHN
On field technicians
Capability to work on different markets: industrial, transportation, healthcare, aereospace, covering european customer needs
THE HAHN TRAFO EI30 series
Several hundreds of transformer types provide safety and long service-life for printed circuit boards, household appliances, leisure electronics, heating and control technology as well as in assembly techniques. Transformers for special requirements with lower open-circuit (no-load) loss capacity are also available in the range.
Order now
THE HAHN TRAFO EE20 series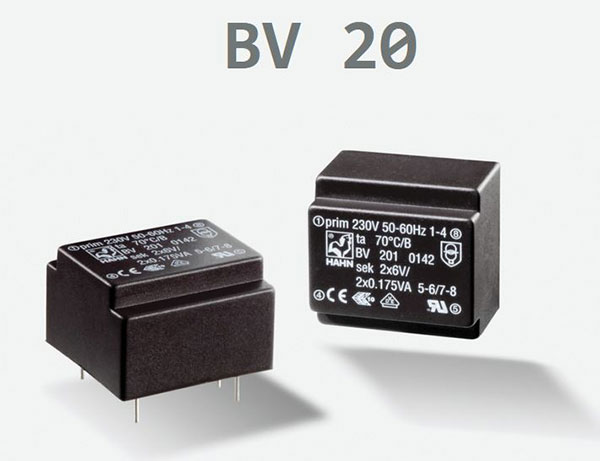 Thanks to its minimal size the BV 20 is the ideal problem solution for appliance manufacturers requiring small components and who are not prepared to enter into any comprises as regards quality and performance demands. Processing with double-coated windings, special extreme heat-resistant epoxy insulating resins and self-extinguishing encapsulation housing materials give HAHN transformers extra electrical safety reserves enabling applications of extreme limits to be addressed.
The BV 20 with insulation class B properties is especially suit able for printed circuit boards, computer processors, other electronic applications, domestic appliances, telecommunications', lighting and photo technologies. Particularly in regard to competitiveness on international markets and the product liability of manufacturers, the BV 20 offers users the greatest functional electrical safety and long-life service by reason of its superior quality for their products.
Order now
the ERP Series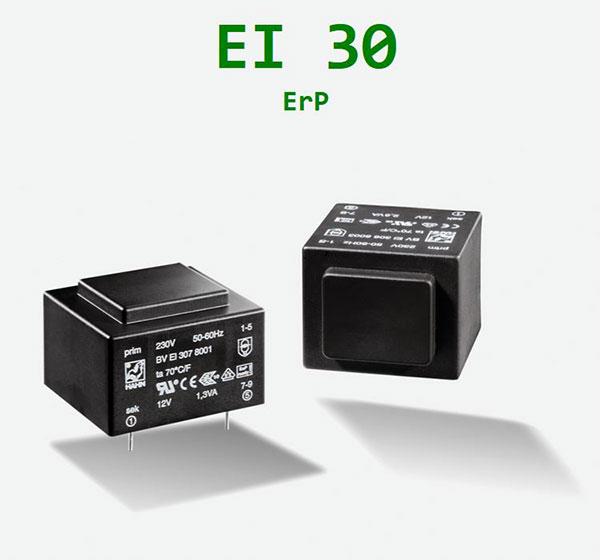 The ErP Serie of HAHN is perfect for applications of the electric power supply in electrical and electronic household and office equipment with "stand by" and "off" conditions. Already today where a reduced power consumption of P0 0,4 W is required, the Erp Serie of HAHN will be a solution.
Order now